Sunday, October 24, 2004

YAY!! the first Texas State Football game that i attended and they won .. against SFA.
it was such a good game *eat em up cats!*
that sounded pretty lame i know, im just excited cuz we won and it was a blast!
what do we do after we win something? we celebrate of course!! :)
Party, Party, Party Hoppin'.........

"Isn't it weird to stick out like a sore thumb because you ARE wearing clothes?" ~kelz
this is true. after drinkin a few at a friend's apartment, we went to this huge party where pretty much everyone was in there underwear and drunk. it was fun, but then the cops had to but in.... so we went to another party which was probably just as big and saw drunk 'ol nicole.. haha!
it was a fun night, lets just keep it at that.
LETS THROW GUMMY BEARS AT KATE, CHAD*TRUNK BOY*OMFG, LEVI IS SO MUCH PRETTIER THAN ME*HEFFA PLEASE*CHRISTINE, LEARN TO DRIVEhahaha*GUY DANCIN AROUND WITH A BROOM IN BETWEEN HIS LEGS*YOU'RE KILLING SALEMANDERS.. TURN OFF THE SHOWER KATE!

had a blast.. if ashley, nicole or kaci is reading this, i sure missed ya'll!! i really wished that ya'll would of come! cant wait to see ya'll soon biatches!!! ;)
|
The man who has no imagination has no wings Muhammad Ali
Tuesday, October 19, 2004

aww, kelz and i went to the first choir concert of this year at SV. kelz has already experienced being an alumni, but it was my first time. wow.. it was totally weird!! but it was totally fun and im so glad that i went!

anyways.. it was fun and we got really cute new shoes that night too! :) woo
|
The man who has no imagination has no wings Muhammad Ali
Tuesday, October 12, 2004

so tonight was pretty interesting, full of laugh and full of anger.
first, kelz and i did my laundry. then i wore my laundry basket like a backpack and it was fucking hilarious
lemme take a pic to show you how damn funny it was...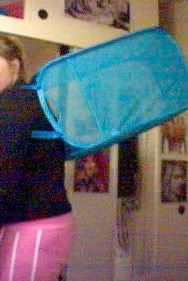 so yeah.. then when we're going upstairs, i trip and fall on the stairs. it was great, but i got hurt :(
THEN... my clothes didnt dry at all! so like all my clothes are hung up in my room drying lol, but at least they smell good!
so then we go to ihop and met up with liz and kelly, and one of kelly's friends and matt. HAHA.. MAN THAT JOKE WAS HILARIOUS, RIGHT MATT?
could you wear your pants a LITTLE tighter and shove that stick up your ass a LITTLE bit further.. lmao .. eewww.. i had to sit next to him you bitches
AND i stubbed my toe on the damn door while it was shutting.. and later hit my other chin, that of which was not hurt yet, and slammed kelz's car door on it so now i have too hurt legs. AND THEN i slammed my fingernail against the toilet paper despensor. wtf?!! just not my night
but i cant complain, it was quite fun... but then the fun turned into gayness cuz tx state cannot figure out that there are not enough parking spots for those who live on campus. this is getting ridiculous! we had to park really far away and get parking services to pick us up!! pretty sure last time i checked, that's not what we're paying for. we drove around for an HOUR looking for a damn spot until we got feed up and called those bitches.
we need to be really short so we could legally be midgets and get handicapped parking permits to hang off the rear view mirror! damn right.

night kids, im damn tired
|
The man who has no imagination has no wings Muhammad Ali
Thursday, October 07, 2004

aww, last night was a blast!
kelz and i visited walmart and got some work work workin' out clothes then headed to the rec to play some mean raquetball (spell check) with liz and kelly, it was so much fun and then we ate at jones! what fun that was! we were SO loud and phil and two of kelly's friends came and we made them laugh like they've never laughed before. (they literally said that) it made me really happy that we're so awesome :)

then we watched family guy (what night do we not watch it?) and it was about how brian got addicted to coke ......................... yeah. so anyways, it was pretty funny.
|
The man who has no imagination has no wings Muhammad Ali
Tuesday, October 05, 2004

chad and i celebrated our 2 year last night at Palmers. it was so romantic :)

"This could be it, I think I'm in love
It's love this time
It just seems to fit, I think I'm in love
This love is mine

I can see you with me when I'm older
All my lonely nights are finally over
You took the weight of the world off my
shoulders (the world just goes away)

Oh, when you kiss me
I know you miss me -
and when you're with me
The world just goes away
The way you hold me
The way you show me that you
adore me - oh, when you kiss me
Oh, yeah

You are the one, I think I'm in love
Life has begun

I can see the two of us together
I know I'm gonna be with you forever
Love couldn't be any better

Oh, when you kiss me
I know you miss me -
and when you're with me
The world just goes away
The way you hold me
The way you show me that you
adore me - oh, when you kiss me
Oh, yeah
I can see you with me when I'm older
All my lonely nights are finally over
You took the weight of the world off my
shoulders (the world just goes away)"
*Shania Twain

i love you so much
|
The man who has no imagination has no wings Muhammad Ali
Monday, October 04, 2004

aww, kelz is so awesome! she reformatted my blog and it look really good!
thanks you so much!!

go ahead.. pick me a flower ;)
|
The man who has no imagination has no wings Muhammad Ali
Sunday, October 03, 2004

This night was interesting.. first we head to the square, where we expected a good band to play.. too bad all the ditsy sorority girls didnt think that it would take a lot of money for the sound system for the band to play.. hmmm.. oh well it was fun anyways, we got x's for nothing and got our money back.. lol.. the whole $3! then we went to Tom's friend's apartment which was pretty fun and met some interesting people.
very fun night :)
|
The man who has no imagination has no wings Muhammad Ali